A pair of newborn conjoined twins from Syria has been taken across the border with an ambulance to be treated in Turkey.
The twins were born via cesarean section in Idlib, Syria to parents Fuat Yaseri (30) and Ragda El-Delli (30), weighing 2 kilos and 70 grams.
Due to inadequate medical facilities in Syria, the babies were brought to the Cilvegözü Border Gate in Reyhanlı district of Hatay by ambulance and then to the Reyhanlı State Hospital.
Mustafa Kemal University (MKÜ) doctors sent the newborns to the Tayfur Ata Sökmen School of Medicine intensive care unit for treatment.
With no choice but to leave his wife in the Syrian hospital, Mr. Yaseri, accompanied his one-day-old babies to Turkey.
The father said in a statement to journalists this had been his wife's third pregnancy and that the couple was astonished to find out that the twins were conjoined.
Yaseri, who said that his wife had given birth to a girl and a boy, said, "We learned that they would be twins when she was seven months pregnant, but we did not know they would be conjoined. Today we went to the hospital as if my wife was going to have a normal birth, then they told us, 'These children should go to Turkey.'"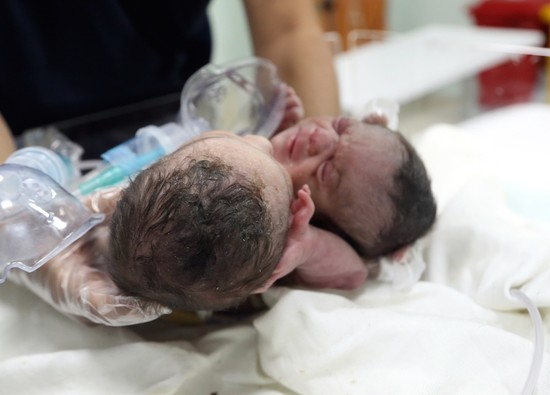 Dr. Mehmet Emin Çelikkaya from the MKÜ Department of Child Surgery explained that the babies were in critical condition and being held in the hospital's intensive care unit.
"Both babies have their own breast cage, but they have a shared abdomen, stomach, liver and bowels. We will not have an emergency operation at this point, but we will reevaluate the situation after they are in stable condition," Çelikkaya said.
Çelikkaya added that a medical council would have to gather at the hospital for the surgery because it is not an operation that a single branch could perform alone.
The births of conjoined twins, whose skin and internal organs are fused together, occur once in every 200,000 live births, however survival rates are low.
Some 40 to 60 percent of conjoined twins arrive stillborn, and about 35 percent only survive for one day with an overall survival rate somewhere between 5 and 25 percent.